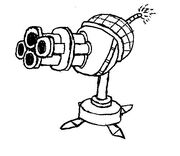 The Gatling Cannot is Cannot's primary special ability in Minion Warfare and Minion Warfare 2: Warmageddon. Cannot roots down in his spot and becomes an immobile gatling gun. In this form, Cannot can fire 100 cannonballs at a very rapid speed, allowing him to mow down incoming enemy forces.
This ability is extremely useful for covering narrow hallways and other areas that leave little to no escape from your firing. Firing continuously will deplete ammunition very quickly, so aiming for the enemy's head is helpful in maximizing damage with minimal ammunition.
If you root down in a less-than-desirable location, don't fire. Simply cancel the ability and as long as you fired no shots, you won't have to wait for the ability to cool down.
Armory Description
Edit
"Root down in your gatling gun form and mow down incomes foes!!"
Ad blocker interference detected!
Wikia is a free-to-use site that makes money from advertising. We have a modified experience for viewers using ad blockers

Wikia is not accessible if you've made further modifications. Remove the custom ad blocker rule(s) and the page will load as expected.