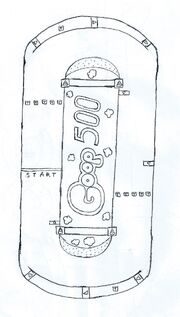 The Goop 500 is a racing track featured in Goop: Full Throttle. It is the first course in the Grumbly Cup. It takes place on a standard oval-shaped track, similar to standard Nascar racing tracks, in a stadium filled with cheering fans. The track's host character is Goop.
Course Layout
Edit
The track is a standard, oval-shaped track, like a standard race track. At either end of the inner oval, there is a shortcut accessed via the Drill Kart. There is also an upper pathway on either end of the oval.
Useful Transformations
Edit
Ad blocker interference detected!
Wikia is a free-to-use site that makes money from advertising. We have a modified experience for viewers using ad blockers

Wikia is not accessible if you've made further modifications. Remove the custom ad blocker rule(s) and the page will load as expected.