Trainers are humans that capture, train, raise, and battle with Meta Monsters. They can be found in various locations throughout the Meta Monsters world, and will often challenge others to battles to prove their strength.
Background
Edit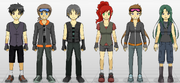 Most Meta Monster trainers often begin their journey with a starter meta monster that are usually given to them by their parents. Some trainers, namely the players, also recieve uncommon meta monsters from their region's professor. Trainers then set out to train their monsters to compete in various tournaments throughout the world, setting their sights on becoming a Meta Monsters Champion.
From the time their journey begins, each new trainer is given a wrist device known as a Capture Chronometer. This device is used for storing and launching special items known as Disc Capsules, which allow the trainer to capture Meta Monsters. Once a Meta Monster has been captured, a trainer will store its Capsule in the Capture Chronometer, adding their information to the Monster Encyclopedia. Trainers can only carry a limit of six Monsters in their party.
These trainers come in a variety of classes, namely: Novice, Amateur, Student, Professional, Veteran, and Champion. Novice trainers are typically those who have just begun training their Meta Monsters, and often include brand new trainers and young children who do not have much experience in battling. Amateur-class trainers include older children and young teens, and display more skill than novice trainers, but still have basically trained Monsters in their parties. Student trainers often include teenagers and young adults, and often train transformed and more skilled monsters. Professional trainers also range from teenagers to adults, but these trainers will take part in tournaments, and have much more experience than the student trainers. Veteran trainers have exceptional skill in training Meta Monsters, and are mostly composed of adult trainers. The Meta Monster Champion is the highest rank a trainer can achieve. A Champion is often the final opponent a player will face in the Meta Monsters Regional Tournament.
Most Novice and Amateur trainers can be found near towns. Students will often be found near training academies and other educational facilities. Professional trainers will be found in many locations throughout the world, and will most often take part in tournaments alongside Veterans.
Notable Trainers
Edit
Ad blocker interference detected!
Wikia is a free-to-use site that makes money from advertising. We have a modified experience for viewers using ad blockers

Wikia is not accessible if you've made further modifications. Remove the custom ad blocker rule(s) and the page will load as expected.