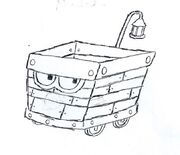 The Minebot is Pappy's primary ability in Minion Warfare. It is similar to the Turbo Charge of Cannot, as it increases Pappy's speed and jumping ability for a time period of eight seconds. As a secondary effect, if a Chomper tries to eat Pappy from below using Burrow, it will instead swallow the Minebot and take 25 points of damage.
However, although the Minebot does not allow Pappy to use other abilities, he can still use his primary attack.
Armory Description
Edit
"This super-fast robotic mine cart is useful for getting around the map and reaching distant areas!"
Ad blocker interference detected!
Wikia is a free-to-use site that makes money from advertising. We have a modified experience for viewers using ad blockers

Wikia is not accessible if you've made further modifications. Remove the custom ad blocker rule(s) and the page will load as expected.