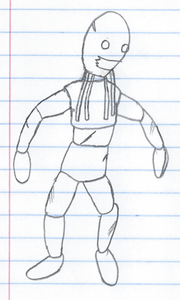 Puppette is a demon created by Justin Wolfe and a boss in game.exe.
Appearance
Edit
Puppette is a human-sized marionette puppet that resembles a wooden mannequin. It has a large cut on the back of its head, two black eyes, and a piece of tape over where its mouth would be. It also has four pieces of string on its chin that resemble the beard of The Skin Daddy. Puppette usually floats around via strings.
Puppette is the second boss of the game, fought in Chapter 2-Boss.
Ad blocker interference detected!
Wikia is a free-to-use site that makes money from advertising. We have a modified experience for viewers using ad blockers

Wikia is not accessible if you've made further modifications. Remove the custom ad blocker rule(s) and the page will load as expected.