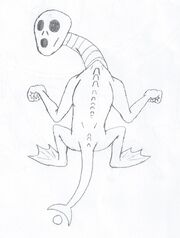 Sorrow is a demon created by Justin Wolfe who first appears as the third boss of Game.exe.
The Legacy of Sorrow
Edit
Name origin
Edit
Sorrow's name origin is self-explanatory.
Appearance
Edit
Sorrow is an enormous white dragon-like creature. Sorrow's head resembles that of a baby doll or a white mask. It has a very long segmented neck. Its torso resembles that of a physically-fit human male, complete with collar bones and an apparent six-pack. The spine almost ruptures through the skin at three points on the back, creating large bony spikes. Sorrow's arms end in human-like hands and its legs end in webbed feet. Its tail ends in a crescent-shaped appendage and a small ball; the crescent and ball are separated from the actual tail, but float at the end of it.
Sorrow is the third boss of the game, fought in Chapter 3-Boss.
Sorrow's appearance was inspired by the antagonist "Red", from the NES Godzilla Creepypasta.
Ad blocker interference detected!
Wikia is a free-to-use site that makes money from advertising. We have a modified experience for viewers using ad blockers

Wikia is not accessible if you've made further modifications. Remove the custom ad blocker rule(s) and the page will load as expected.